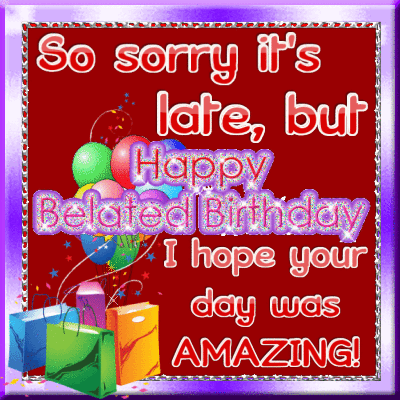 Musical and Animated Belated Greetings Cards. On this page you can find a variety of belated cards; choose from our unique collection of comic style birthday cards with humorous images and funny messages. All Free sorry I missed ur birthday cartoons & postcards to send to friends and family to Brighten their day and raise a smile. There's NO NEED TO SIGN UP and become a member first; simply choose a card you like and send it!
*FREE* distinctive, cartoon greetings cards with cute, funny and sentimental messages that are quick to view, can be customized with a range of smileys, stamps and music – why not try them out!
All *FUN*tastic eCards are absolutely *FREE* and you can send them straight away. There's no need to sign up first and then  be asked for an annual membership fee!!  MORE Free birthday cartoons & postcards to send to Brighten their day constantly being added.
[upg-list album = "belated-birthday-cards"]
BIRTHDAY QUOTES, SAYINGS, MESSAGES & POEMS
(Handy quotes to add to your e-cards, as well as ideas for your text msgs, sms, myspace, blogs and facebook comments)
How do you expect me to remember your birthday, when you never look any older?
~ Unknown Author
I didn't forget about your birthday; I just wanted to help prolong the celebration.
Belated birthday quote By ~ Unknown Author
I am sorry I missed your birthday, you have had so many I lost track.
~ Unknown Author
*******
Your birthday's passed, and I'm too late
So sorry I forgot the date
So here's a card, I've sent to say
I hope you had an awesome day!
Belated birthday Poem By ~ Unknown Author
********
This card took skill and talent
and dedication to create
Plus days of thought and craftsmanship
It's no wonder that it's late
Belated birthday Poem By ~ Unknown Author
********
Sorry I forgot the most important day of the year… your Birthday
By ~ Unknown Author
I didn't forget your birthday, I'm just fashionably late.
Belated bday quote By ~ Unknown Author
I didn't forget about your birthday; I just wanted to help prolong the celebration.
Belated birthday quote By ~ Unknown Author
********
Your birthday's passed, and I'm too late
So sorry I forgot the date
So here's a card, I've sent to say
I hope you had an awesome day!
Belated birthday Poem By ~ Unknown Author
********
How do you expect me to remember your birthday, when you never look any older?
~ Unknown Author

The secret of staying young is to live honestly, eat slowly, and lie about your age.
Birthday Quote by ~ Lucille Ball

The older the fiddler, the sweeter the tune.
~ English Proverb

Age is strictly a case of mind over matter. If you don't mind, it doesn't matter.
Quote by ~ Jack Benny

The old believe everything; the middle-aged suspect everything; the young know everything.
Quote by ~ Oscar Wilde

I am sorry I missed your birthday, you have had so many I lost track.
~ Unknown Author
Sorry I forgot the most important day of the year… your Birthday
By ~ Unknown Author

I didn't forget your birthday, I'm just fashionably late.
Belated bday quote By ~ Unknown Author

I hope your birthday was as special as you are.
~ Unknown Author
Old age is like everything else. To make a success of it, you've got to start young.
Birthday Quote by ~ Fred Astaire

Birthdays are good for you. Statistics show that the people who have the most live the longest.
By ~ Unknown Author

********
These birthday wishes may be
Just a tad, a smidgin' late
But you're still wished much happiness
No matter what the date
Belated birthday Poem By ~ Unknown Author
********
Old age is like everything else. To make a success of it, you've got to start young.
Birthday Quote by ~ Fred Astaire

*********

This card took skill and talent
and dedication to create
Plus days of thought and craftsmanship
It's no wonder that it's late
Belated birthday Poem By ~ Unknown Author

The Best way to remember your wife's birthday is to forget it once.
– H. V. Prochnow quote

Youth is happy because it has the ability to see beauty. Anyone who keeps the ability to see beauty never grows old.
– Franz Kafka quote

The secret to eternal youth is arrested development.
– Alice Roosevelt Longworth quote

There was a star danced, and under that was I born.
– William Shakespeare quote

There is no cure for birth and death save to enjoy the interval.
– George Santayana quote
I didn't forget about your birthday; I just wanted to help prolong the celebration.
Belated birthday quote By ~ Unknown Author
********
Your birthday's passed, and I'm too late
So sorry I forgot the date
So here's a card, I've sent to say
I hope you had an awesome day!
Belated birthday Poem By ~ Unknown Author
********
How do you expect me to remember your birthday, when you never look any older?
~ Unknown Author

The secret of staying young is to live honestly, eat slowly, and lie about your age.
Birthday Quote by ~ Lucille Ball

The older the fiddler, the sweeter the tune.
~ English Proverb

Age is strictly a case of mind over matter. If you don't mind, it doesn't matter.
Quote by ~ Jack Benny

The old believe everything; the middle-aged suspect everything; the young know everything.
Quote by ~ Oscar Wilde

I am sorry I missed your birthday, you have had so many I lost track.
~ Unknown Author
Sorry I forgot the most important day of the year… your Birthday
By ~ Unknown Author

I didn't forget your birthday, I'm just fashionably late.
Belated bday quote By ~ Unknown Author

I hope your birthday was as special as you are.
~ Unknown Author

The Best way to remember your wife's birthday is to forget it once.
– H. V. Prochnow quote

Youth is happy because it has the ability to see beauty. Anyone who keeps the ability to see beauty never grows old.
– Franz Kafka quote

The secret to eternal youth is arrested development.
– Alice Roosevelt Longworth quote

There was a star danced, and under that was I born.
– William Shakespeare quote

There is no cure for birth and death save to enjoy the interval.
– George Santayana quote